In Athens
In Athens, ballet music. 1985
Discography 💿
Choreography: Rallou Manou
Commissioned by the Greek Chorodrama
First performance: Lycabettus Theatre, Athens, August 23, 1985, Duration: 38 min. 40''
(…) In Drakos's Recording Studio, at Filothei, and to be more specific, shut in a small, supplementary room on the second floor, I was working with Lakis, a twenty-year old apprentice sound-engineer, on a console dating back to the '60s, It exerted on us a distinct appeal since it had been bought from Abbey Road Studios in London, and rumour had it that on this very console the Beatles had recorded their first songs. Anyhow, on its set of eight switches we had to accommodate tenths of different instruments and sounds, and I can hardly forget the
intricate movements of our joint twenty fingers during the mixing. Nor can I ever forget that once, we brought a motorcycle into the studio which was instantly filled with exhaust-gas, so that we could capture on disc the revving-up of the engine and the distinctive sounds of the starter motor and exhaust pipe; and all that for the recording needs of "Driving Restrictions Disco". You see, all I wanted was to use the motor's beat as a natural percussion instrument playing ten sixths!
(…) When FT told dearest Rallou Manou all about my idea to end the ballet with a Çifteteli dance, during which the «chorus» would praise the popular singer, she got truly scared. But little by little, she came to grow intimate with the idea, and in the end she gave her full support. That was a magnificent contribution of hers. Untortunately, it was meant to be her last.
Nikos Kypourgos
(extract from a conversation with Taleia Iakovidou., Autumn 2000)
Our new ballet, «Athens, my city», is, as its title denotes, dedicated to Athens which celebrates its existence this year. | could say it's about a short dance course setting out from mythology and ending with today's boisterous aspect of society gasping for breath, a kind of society that puzzles us all.
It would be out of sheer arrogance, however to believe that one can express in dance form – within an hour or so – the various phases and aspects of this city that has offered so much aid suffered so deeply. For that reason the ballet is imbued with a trace of humour and irony, an irony mainly turned against ourselves, we who inhabit, cherish and destruct this city.
We, who live in Athens and love the city, for all its good points and the bad, see many different images pass through our minds. Sometimes we cannot tell what is myth and what is reality, nor are we sure which events we have lived through ourselves and which ones we have heard about or read of somewhere. It is this kind of incidents, inspired by the city's day-to-day life, past and present, which makes up this ballet of ours. In other words, it is about the memories handed down in our blood from generation to generation and about impressions which hold us in their grip, either we are fond of them or not. I entrusted the composition of original music for this ballet with Nikos Kypourgos, a young, talented and very "Greek" artist, who moves with ease through the diverse aspects of sounds, the use of which is required by such variform episodes.
Rallou Manou
[Excerpts of Rallou Manou's note on the opening performance of "A "Athens my city" given on August 23, 1985, at the Athens Lycabettus Open-Air Theatre.]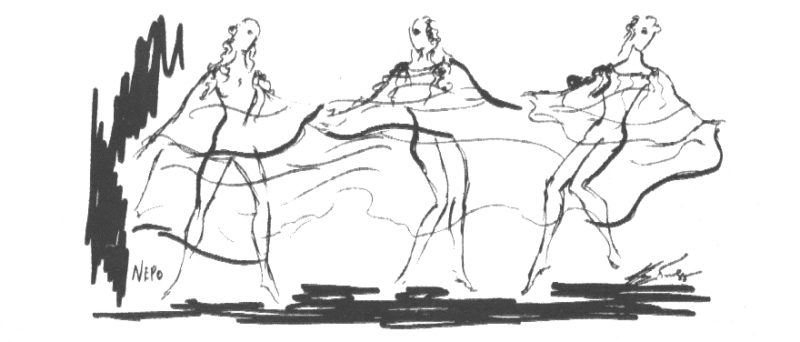 «The Water», Designed by Yannis Karydis